Our Favourite Frank Gehry Buildings - Part 2
If you enjoyed our last blog post – Our Favourite Frank Gehry's Buildings – Part 1 you will love what we're going to show you this time. From distinctive Binoculars Building in California to sophisticated Fondation Louis Vuitton, these buildings have been nothing short of remarkable, leaving his masterpiece of architectural designs into the city surroundings all over the world.
Chiat/Day Building
Venice, California (Completed 1991)
Image via YaGeek via Wikimedia Commons
This 75,000-square-foot building is commonly known as the Binoculars Building. It is a commercial building, which incorporates a sculpture of a pair of giant binoculars as its facade. The binoculars were created on a steel frame, clad with concrete and cement plaster paint. Gehry successfully turned a simple commercial office space into a fascinating architectural masterpiece.
Loyola Law School
Los Angeles, California (Completed 1978)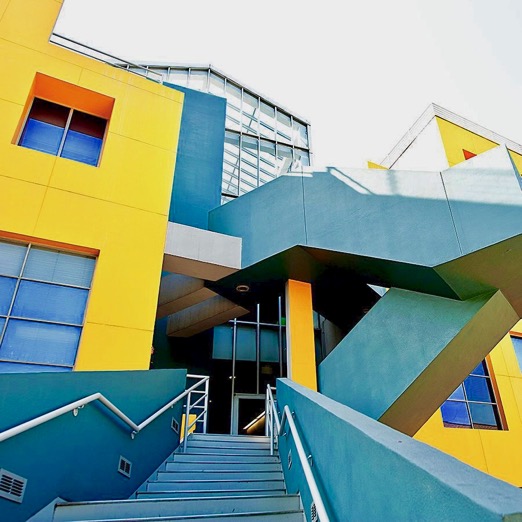 Image via @loyolalawschool via Instagram
The Loyola Law School design was based on the concept of a village of small buildings. The campus' largest building is a four-storey, bright yellow rectangular shaped structure with a glass atrium and grey-green exterior staircase in the centre. Offices and classrooms are located in the Burns Buildings, which is topped with a greenhouse to complete the look.
Neuer Zollhof
Dusseldorf, Germany (Completed 1999)
Image via Martin Falbisoner on WikiMedia Commons
Situated at Eastern edge of the Rhine River in downtown Dusseldorf, the structure is made up of three buildings; white, red and silver, all are constructed using a concrete flat slab. Each is built with operable windows for natural ventilation and different cladding materials. Gehry strategically designed the central building to reflect the material and shapes of the two adjacent structures.

Lou Ruvo Center
Las Vegas, U.S (Completed 2007)
Image via Kimberly Reinhart on Flickr
This distinctive space was designed as a research centre for degenerative brain diseases. The building is divided into three spaces connected to the courtyard. The first building consists of stainless-steel arcs and houses an event space. The secondary area contains the Life Activity Centre providing seated area for enjoyment. Lastly, the clinics and research facilities are dedicated to preserving memory.
DZ Bank Building
Berlin, Germany (Completed 2000)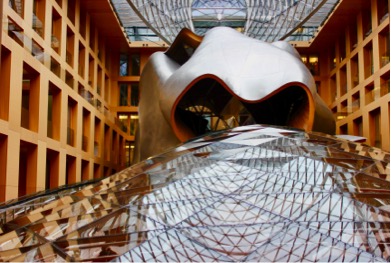 Image via Alfredo Sánchez Romero on Flickr
The DZ Bank Building is located on Pariser Platz, one of Berlin's mixed-use buildings comprised of the Berlin Headquarters of DZ Bank and a residential component. The conference hall is located within the sculptural shell that rests on the glass floor making it appear to float in the space. Notably, in the center of the atrium lies a four-story high structure with a curvaceous stainless steel surface and an interior wood paneling, resembling an abstract horses' head. Lastly, the exterior is designed with a beautiful facade, consisting of a mixture of sand-coloured stone with glass doors, to capture the building's movement.
Fondation Louis Vuitton
Paris, France (Completed 2014)
Image via @dessinateurs via Instagram
The Fondation Louis Vuitton is a 126,000-square-foot, two-and-a-half storey building that has become a distinctive landmark in Paris. Frank Gehry used a total of 19,000 panels of transparent glass to create the whiteness of the building. The panels cover the body of the structure, which is referred to as the "iceberg".