Mirvish+Gehry and the Jane Jacobs Effect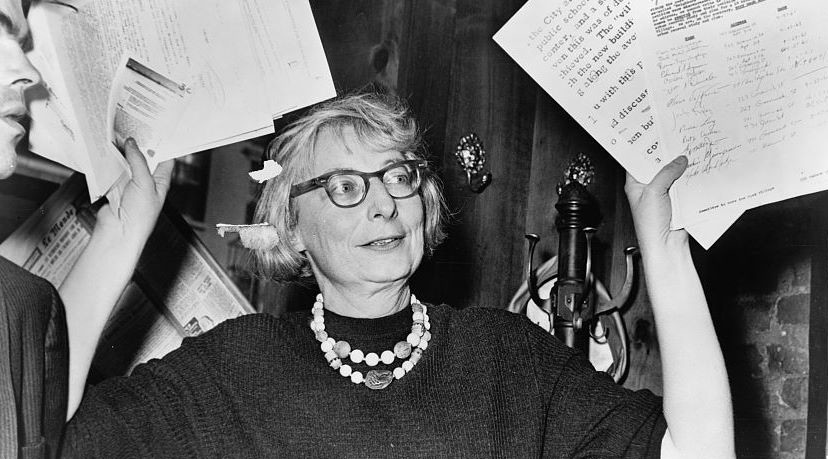 From the outset, Mirvish+Gehry has been cognizant of its place and impact within the city. Early designs were reshaped and moulded through a series of meetings with the Toronto City Council, Chief Planner Jennifer Keesmaat and groups of local stakeholders. After several months of collaboration, Mirvish+Gehry as we know it today was born.
Creating such a landmark edifice in a city requires many perspectives and considerations, from the level of nuts and bolts mechanics to a broader, more cultural angle. When thinking about urban development from the cultural perspective, one name immediately comes to mind—Jane Jacobs.
Jane Jacobs was a writer and activist, much of whose work focused on urban planning and development. Throughout her life in New York and Toronto, Jacobs reified and disseminated a new form of urbanism to which urban planners continue to refer.
She argued that cities were living beings and ecosystems, and when one looked out their windows onto city streets, they would see a sidewalk ballet, where people participated daily in an unchoreographed dance that is a key component of urban vitality. Whether it's a local resident taking out their trash, a shop owner washing their storefront, a person on their way to work or someone hailing a cab, these people and their daily activities make up the tapestry that keeps a neighbourhood and city vibrant.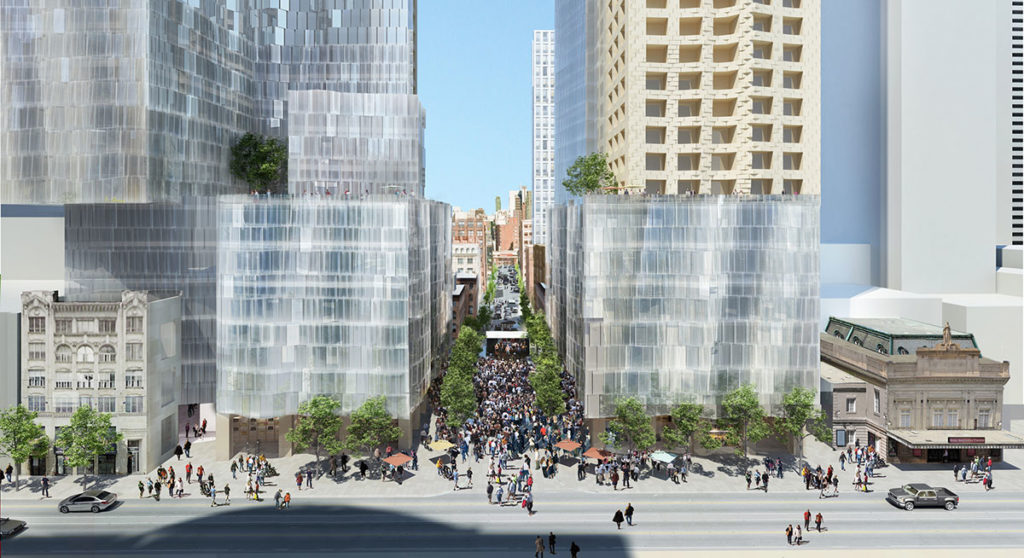 Jacobs' views weren't lost on Frank Gehry or David Mirvish, and some of her ideas are evident in the calculated design of Mirvish+Gehry. Jacobs always insisted that cities should be designed for people, and not for cars. Portions of Mirvish+Gehry are set farther back from the road than the existing façades, creating additional sidewalk space for pedestrian use and Jacobs' daily ballet to play out.
Coming into her own during the mid-20th century, urban planners around Jacobs believed that population density was a problem to solved. This led to widespread destruction of older buildings to make way for more open spaces in cities, and an increase in suburban development and urban sprawl.
Jacobs was opposed to this approach to urban planning and a staunch advocate for high concentration and density. She believed that density was a key characteristic of safe, pleasant, healthy and economically successful neighbourhoods. By reaching a critical mass in terms of concentration and density, neighbourhoods become more diverse, vital and resilient.
Obviously, if the object is vital city life, the dwelling densities should go as high as they need to go to stimulate the maximum potential diversity in a city.
Jacobs was also a proponent of the adaptive reuse of heritage buildings.  In her seminal work, The Death and Life of Great American Cities, she wrote at great lengths about the value that older buildings can add to a city's fabric.  She asserted that "[c]ities need old buildings so badly it is probably impossible for vigorous streets and districts to grow without them."
Another key component of Jacobs' visioning for successful urban planning was mixed-use buildings. Developing a neighbourhood with mixed-use constructions ensures a broad diversity of individuals of different ages using structures for various purposes and at various times. The varied use these buildings would help to create a community vitality that would be lacking otherwise and facilitate safer neighbourhoods through constant local activity.
These considerations were taken to heart in the design and planning process for Mirvish+Gehry. Both David Mirvish and Frank Gehry knew from the start that their soaring towers would be more than just residences, and would offer varied uses for the city. Currently, Mirvish+Gehry will offer housing, a satellite campus for OCAD University, retail and office space, and an art gallery open to the public comprised of Mirvish's rare and unique collection of artworks. While some of these will be housed in the two new towers, some will also be housed in the preserved heritage buildings.
Although it's not certain just yet who or what will be occupying all the spaces at Mirvish+Gehry, it is clear from the mixed-use nature of the project that it will add to the diversity and vitality of the ever-ebullient Entertainment District in Toronto.
Vital cities have marvelous innate abilities for understanding, communicating, contriving, and inventing what is required to combat their difficulties… Lively, diverse, intense cities contain the seeds of their own regeneration, with energy enough to carry over for problems and needs outside themselves.