Architect Frank Gehry and Impresario David Mirvish Would Change Face of Toronto – Hume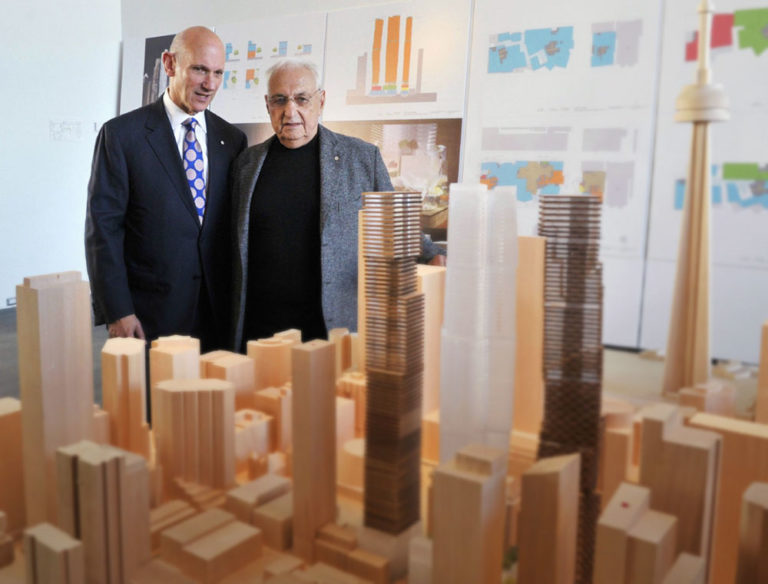 This article originally appeared in The Toronto Star.
For a brief moment back in 2004, it looked as if the Art Gallery of Ontario might move into new a waterfront building designed by Toronto-born superstar architect Frank Gehry.
That never happened. Instead, Gehry was commissioned to remake the AGO's long-time premises at Dundas and McCaul Sts. That project turned out splendidly, but it wasn't quite the triumphal homecoming one might have wanted for this city's most celebrated architectural son.
But now Toronto has a second chance at a Gehry. Thanks to impresario David Mirvish, the Santa Monica-based architect could have another kick at the can. The two have hatched a scheme that would transform the north side of King east from John to just past Duncan St. Plans call for three 80-storey condo towers atop a five-floor podium filled with shops, restaurants, office and major new art galleries, one featuring Mirvish's collection and the other work by staff and students of the Ontario College of Art and Design University.
The proposal was launched last October, and since then, the discussion has focused largely on the height of the towers and the fate of a handful of early 20th-century warehouses and the more recent Princess of Wales Theatre.
The city is standing firm on the need to preserve heritage and, of course, the locals will take care of the height issue.
Though the disappearance of these warehouses represents a considerable loss for the city; it's worth putting that in the context of what would replace them. By general consensus, Gehry ranks among the most important architects alive today. His projects — notably the Guggenheim Museum in Bilbao, Spain, and Walt Disney Hall in Los Angeles — changed the way we look at architecture. His buildings begin where conventional structures end. In his work, traditional Euclidian geometry gives way to something more fluid and unexpected. Right angles can be found, but not assumed.
One of Gehry most recent projects, a striking 76-storey apartment tower in Lower Manhattan, has a unique rippled exterior. Waves appear to move up and down the facades, bringing an uncanny sense of motion to the building.
It's unlikely Gehry's triple Toronto towers will resemble his New York skyscraper, but it's a safe bet they will stand out on the skyline, and for all the right reasons.
More important is what happens at ground level where a five-storey podium will address the street and create a public realm, something Gehry holds dear despite his reputation as an icon-maker.
"The podium will be a single architectural expression," Gehry's associate and amanuensis, Craig Webb, said in Toronto last week. "Frank wants it to reinforce the cultural flavour of the neighbourhood and activate the space around the project. He also wants it to look like a cloud. Now we have to figure out how to make that."
The tower-on-the-podium model is familiar to Torontonians; it has been the template for condo development for years. As well as looking like a cloud, the base of Mirvish's complex will include a major cultural component, the Princess of Wales Centre for the Visual Arts. Mirvish's intention is to display his large collection of abstract art, specifically Colour Field painting, and to create a place of study.
"Art is a portrait of a community," says Mirvish. "I want to give each artist his space and provide the opportunity for people to experience a moment in history, the second half of the 20th century."
Not often does a city get an offer like that. Art and architecture; the best of both.